It's local food week, and we #LoveONTFood.
We also love growing food in Ontario with our friends and colleagues.
This is Desmond. Desmond is the team lead for our bunching team. Desmond travels from Jamaica every year. This is his 15th year working at Pfenning's.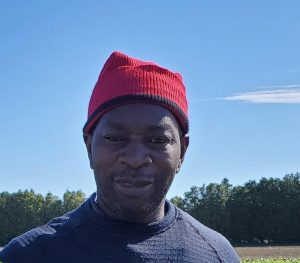 Although many of our Jamaican colleagues have been coming to work at our farm year after year – some for over a decade, there is no pathway to immigration for them in the system that governs their employment in Canada.
The system treats migrant workers as #PermanentlyTemporary and is not set up in a way that enables workers to actually avail themselves of their rights.  You can read more about some of the longstanding issues, and proposed solutions on a previous blog post we published following a screening of the film El Contrato on the farm.
Jennifer Pfenning is an engaged and vocal advocate for change on these issues. The changes that have been needed for a very long time are more important than ever in the face of the pandemic. And many more protections are needed to address the crisis of outbreaks affecting the health and safety of migrant workers on farms across Canada.
If you value local food, and the people that produce it, and are looking for ways to engage and take action, here are a few suggestions:
Follow:
@j4mw on Twitter and @justice4mw on Facebook
@migrantworkersalliance on Facebook
@la_via_campesina_official on Instagram @via_campesina on Twitter and @viacampesinaOFFICIAL on Facebook for a global perspective.
Research and learn about the issues and how they apply to the pandemic as well as the #BlackLivesMatter movement.
Write your MP, and the Minister of Agriculture, Minister of Immigration, Refugees, and Citizenship, Minister of Employment, Workforce Development and Disability Inclusion, and Prime Minister to advocate for the changes to the Temporary Foreign Worker Program required to protect migrant workers and make changes to create a system that is fair, just, and equitable.
Write your MPP, the provincial Minister of Agriculture, Minister of Labour and the Premier to advocate for increased, and more effective Ministry of Labour inspections.