The true mark of an approaching summer is the first delicious taste of fresh Ontario organic strawberries.  The sweet taste of strawberries is glorious when coupled with a juicy yet firm texture.  My favourite way to eat them is cold strawberries dipped in warm dark chocolate sauce.
The Ontario strawberry season is relatively short, starting in June and going into July, until the heat becomes too unbearable for the delicate berries (although some varieties can be seen in August if weather cooperates).  In order to preserve the goodness of this local delight I dehydrate them and put them in my morning cereal for another 6 months!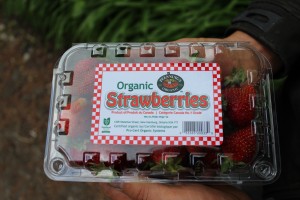 We are excited this year for the local strawberry season because Pfenning's Organic is offering a new package for our customers to offer at retail – 1 lb plastic clam shells.  These standard size clam shells help preserve the quality of the berries by keeping them covered and yet ventilated to reduce moisture on the berries.  This helps keep away dreaded fuzzy mold.  Plastic packaging, while fully recyclable, also offers better packaging integrity so berries don't get squished in your shopping bag.
Strawberries are a delicate fruit and start to breakdown fast once they are picked from the plant, particularly in the heat of the day.  It is crucial to cool them quickly and 'get the field heat' out of them in order to maintain freshness and keep their 'legs' (farm jargon meaning a good shelf-life).  We have a group of 8 Ontario organic farmers who are working hard to grow and harvest our strawberries, but it has been a challenge in the past to get the berries cooled down quickly once harvested.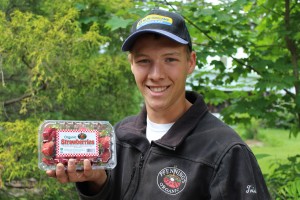 Many of our grower suppliers do not use electricity on their farms, so there is little to no ability to cool the berries in refrigerated units.  Some of the growers have ice houses, which can certainly help, but truly effective cooling takes place under blast cooling conditions at 1°C.  This year we are piloting a pick-up program, where Tristan Pfenning will be driving to our 8 growers three times a week, using a refrigerated truck, to pick-up the berries that are harvested early in the morning.  This will give us the opportunity to work with the growers on quality specifications in the field while also getting the berries to our blast cooling facilities in New Hamburg that much quicker.
We are hopeful that these changes to the ways we bring fresh Ontario strawberries to local retail stores will result in a fresher, longer-lasting berry for consumers.  So get prepared for local Ontario organic strawberries coming soon and look for Pfenning's Organic Ontario Strawberries when visiting your favourite retail store!