Dubbed as the new super green, the leaves from the broccoli plant are another option for your roster of nutrient dense summer veggies.  And we are happy to announce that we are harvesting this delicious option right here on our farm in New Hamburg, Ontario.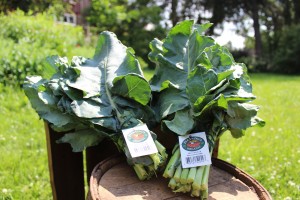 Broccoli is part of the Brassica oleracea family which includes other deliciously nutritious leafy plants, such as kales and collard greens.  It's no wonder the leaf portion of the broccoli is edible and contains many healthy nutrients.
No, not those little delicate fronds that you find on the crowns of broccoli (though those, too, are edible); these larger leaves grow around the stalk of the broccoli plant. Farmers previously used them just for cultivating the soil, but now they are being recognized for their nutritional power.

Read more at: http://blog.foodnetwork.com/healthyeats/2015/02/07/turn-over-a-new-broccoli-leaf/?oc=linkback
The leaves of the broccoli plant have been said to be an excellent source of vitamins A, C and K, as well as a good source of folate and potassium.  A comparison of collards vs. broccoli leaf with Health Canada's Nutrient File shows their levels of most nutrients to be fairly comparable, but that broccoli leaf is higher in most minerals.
Broccoli leaf tastes just like the traditional broccoli floret, although it does have a slightly bitter taste like most greens.  This makes sense as the plant moves sweet flavors into the growing floret to prepare for the flowering stage which attracts pollinators.  The leaf of the broccoli plant is much more supple compared to other greens and can offer a nice addition to salads.
Preparing this product is much the same as for kales and collard greens by removing the leafy portion from the stems.  It can be added to a wide variety of recipes in place of traditional greens and can be braised, sauteed, stir-fried, steamed, or baked.
On the farm each year we transplant entire fields of broccoli, which start growing in the greenhouse in March.  In those early days of growing we do a lot of hoeing in these fields in order to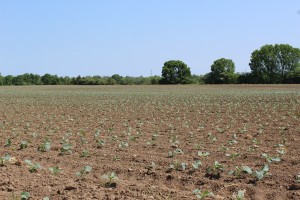 give the little fledgling broccoli plants a chance to grow against the tide of weeds which creep up between the planted rows.  Once the plants are a sturdy size we typically leave the field alone, only needing to monitor for moisture and pest development, until the broccoli heads are large enough to harvest.
We now have the opportunity to offer another portion of the broccoli plant to our customers, which would normally be plowed into the field at the end of the harvest.  This allows us to produce more organic food per acre that can be brought to market for organic loving customers.  With organic land in low supply and organic food in high demand, adding this product to our line of fresh, Ontario grown veggies, is a win for all of us!