There may be challenges to growing up on a farm, but ask any of the Pfenning's and they'll tell you they wouldn't have had it any other way! Almost always outside and surrounded by community, Pfenning kids of each generation learned the ropes of farming and the value of hard-work early. As their parents had done before them, Wilhelm and Barnhild Pfenning raised their 4 children on their farm in Gnodstadt, Germany. In 1981, they moved here to New Hamburg in Canada with their children ranged in age from 11 to 19. Time has passed, and now that generation of kids has grown up and raised their own children. Wolfgang & Ekk have raised theirs right here on the same farm. Even some of their children have children!
The original farmhouse is home base for Wolfgang, Regina, and their four children, Erika, Barbara, Ernst and Conrad. All grown up and with a family of her own, Erika is now raising her two children just down the road at Nith Valley Apiaries and they visit often. Just across the Nith River that runs through the farm acreage, Ekk and Jenn raised their three boys, Andreas, Markus and Tristan.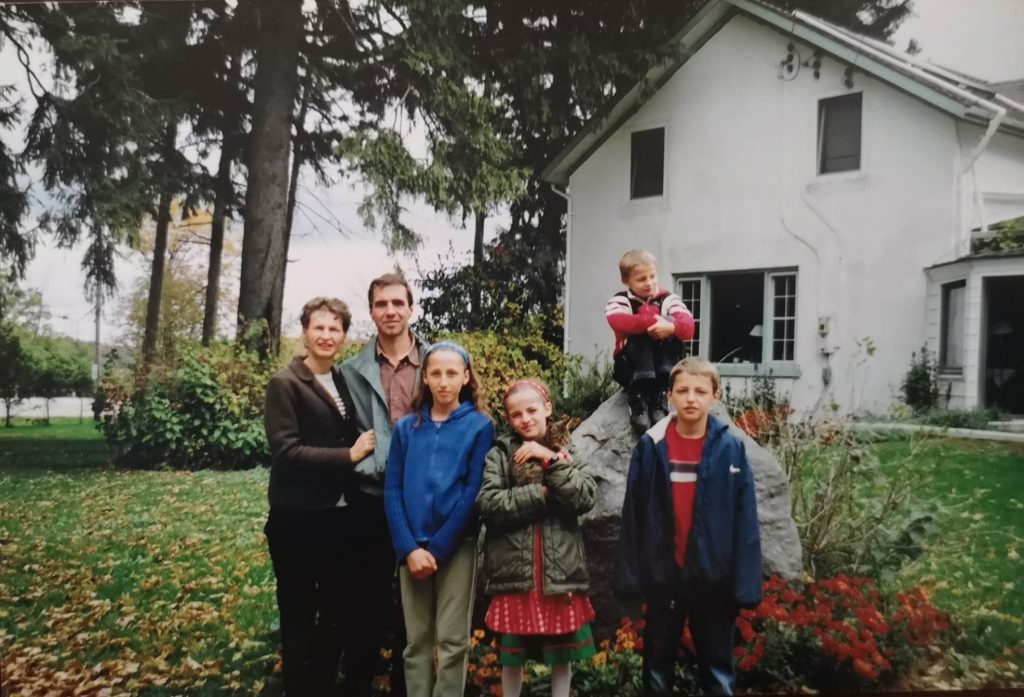 To get a little insight, Ekk, Jenn, Barbara and Markus told us a bit about how they felt about raising their children and growing up on the farm.
Q: What was the best part about raising children on the farm?
Ekk: "Seeing your kids grow up alongside you every day all day rather than just evenings and weekends."
Jenn: "Having a natural classroom to teach them about the world around them, including ecology, environment, food, and social justice. Having the freedom to let them roam and explore in a natural environment."
Q: What was the best part about growing up on the farm?
Barbara: "The best part about growing up on the farm is that we always had fun and never got bored! All the cousins would come over to play and we would often join the employees and our grandma Barnhild in the field whether it was transplanting, hoeing or harvesting. We built tree houses, played and climbed in the barn, went rafting on the Nith River, and so much more!
We were exposed to many different people and cultures. I always loved talking to the employees and probably also got on their nerves too sometimes as I didn't stop talking."
Q: What was the most challenging part of raising children & growing up on the farm?
Ekk: "Keeping them safe and staying productive."
Jenn: "Teaching them safety around equipment and the river"
Barbara: "I don't recall anything particularly challenging. Although our grandma did teach us all how to work hard and learning this wasn't always the most fun, but in the end very valuable!"
Q: What are your fondest memories of your kids growing up on the farm?
Ekk: "When they rode with me in either tractors or trucks on deliveries".
Jenn: So many memories! Here's a few she mentioned:
"When I heard the boys voices in the yard, but couldn't see them at first. Found them at the corner of the field completely coated in mud so that they blended into the field like giggling lumps of mud!
Andreas eating green tomatoes in the garden. First he bit it in half, then he rubbed it in the dirt before continuing eating it.
Riding on the tractor with Andreas as he planted the field so I could talk to him about the NFU meeting we had that evening.
Tristan planning his first chicken coop.
Markus eating hot peppers from the garden and stoically declaring "Yum!" rather than admitting that it was too spicy.
Finding a salamander in the bush and showing them.
Foraging mushrooms and teaching them to cook.
Helping them find monarch caterpillars and eggs to safely raise in the bug houses I made them."
Q: What are your fondest memories of growing up on the farm?
Barbara: "There are too many to pick from. My entire childhood growing up on the farm was amazing!
Many of my fondest memories were being on the transplanter or broccoli wagon with my cousin's and grandma and the other employees.On the transplanter, about half the time we helped out by straightening plants behind the planter and the rest of the time we spent climbing all over the planter and sitting on top of the plant racks! On the broccoli wagon we used to make boxes for the broccoli to be packed into. We would make as many boxes as possible and stack them to build a box house on the wagon. These box houses were pretty practical when it rained as we had a place to stay dry, except we had to continue making boxes to keep the roof over our heads!"
Markus: ""We used to help out on the farm, or more of a hindrance than a help probably, but our job was making boxes. So we would assemble all the cardboard boxes, mostly the ones that you get the broccoli in. We would ride along on the broccoli wagon, assemble our boxes and build little box forts. Whoever was packing them would take them and we'd have to keep making boxes to keep our box fort."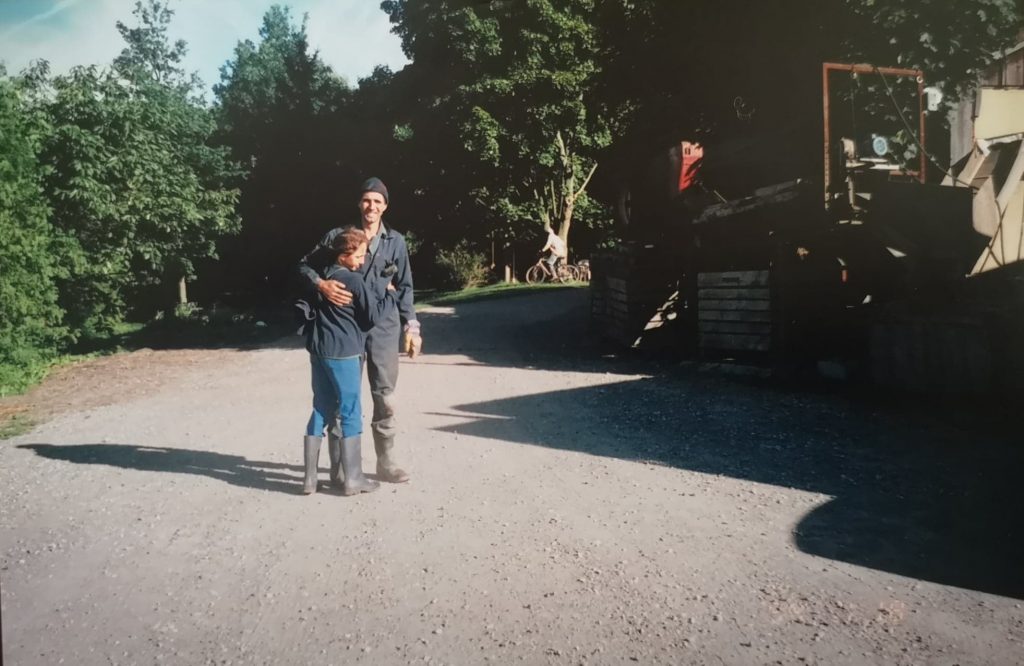 "Looking back, our grandma, parents and the employees were so patient and kind with us kids and let us do all sorts of crazy things. I am so grateful that they made our childhood so amazing!"

-Barbara Pfenning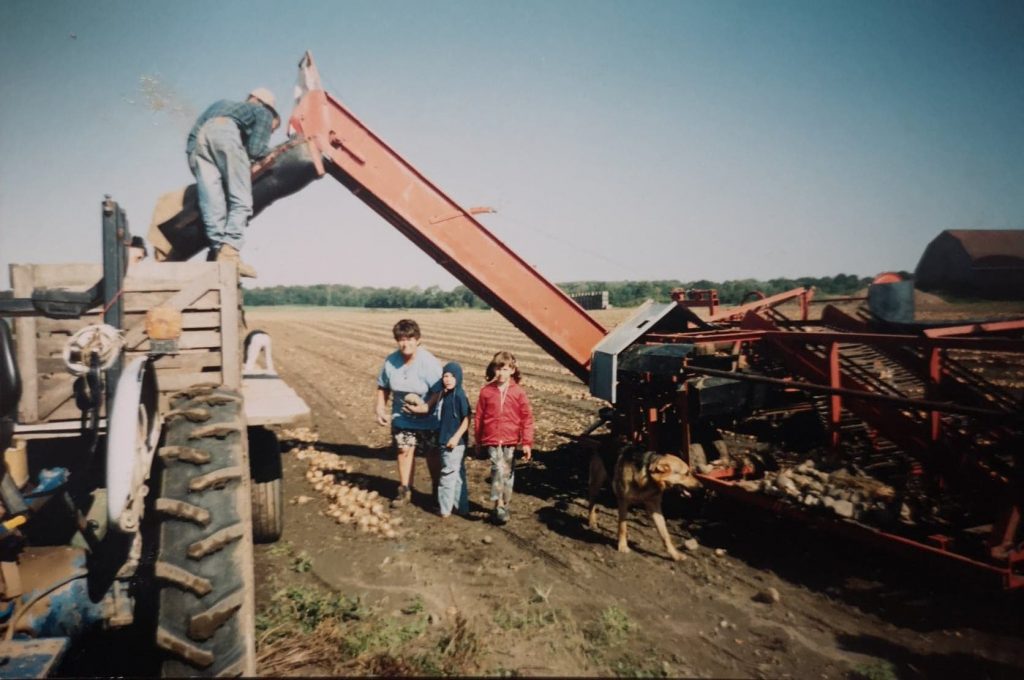 "Whenever I think back about my childhood on the farm, I really wouldn't have wanted to have it any other way."

-Tristan Pfenning