Recently, the safety of romaine lettuce has been called into question all across North America as the risk of E-coli contamination has been traced to its consumption.  The problem is quite widespread; people falling ill are widespread geographically, and the supply of romaine is widespread also, which makes tracing the source of contamination a very big challenge.  For more information from the Canadian and US governments, see here and here.
This situation highlights the importance of traceability, and knowing where your food comes from.  Most leafy greens are out of season for us now, but on the wholesale distribution side of our business we import romaine regularly from a few different growers in warmer climates.  Until the source of contamination is found, everything has ground to a halt; unfortunately produce doesn't stay in good shape forever, so there will be many losses here, and at the farms we work with. These kinds of losses are affecting family businesses across North America.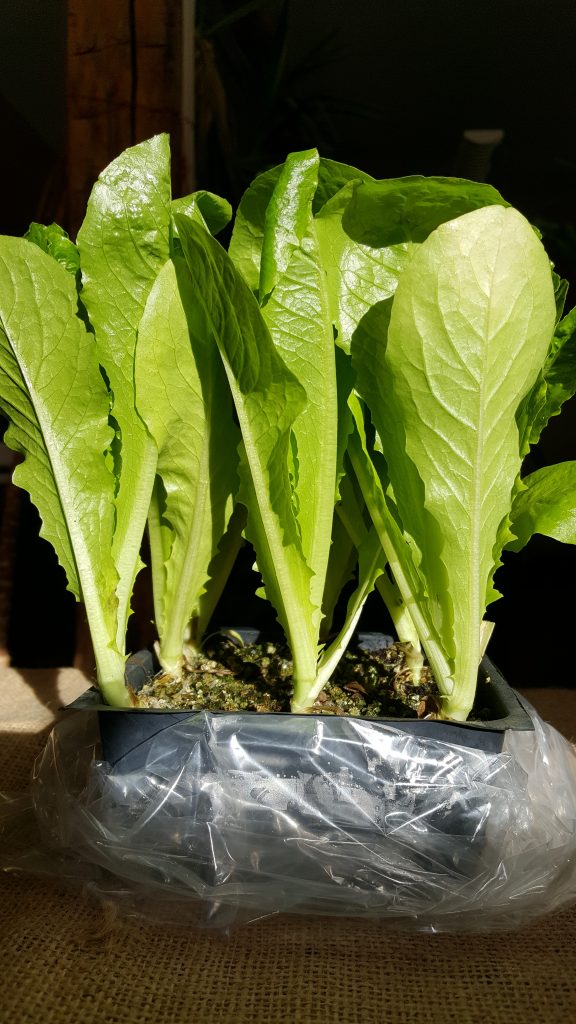 We are fortunate to know Jo and Pauline Slegers, from Slegers Greenhouses located near Strathroy, Ontario.  They grow living greens, including living romaine lettuce.  They are pleasing to the eye, to the taste buds, and full of nutritional benefits.
We have been a distributor for Slegers for many years, and are always impressed with their integrity, their operations, and the outstanding quality of their living greens.  We are confident offering their products, including their romaine, and this is why:
Only certified organic seed is used, approved certified for domestic commercial use in Canada.  All of our soil sources are from Canada.  All of our growing inputs including soil have MSDS sheets.  After seeding, our greens/lettuces are germinated and irrigated for their whole life cycle on raised grow tables.  These grow tables are regularly cleaned as required by Canada GAP (Good Agricultural Practises) which we are certified by.

Our water source is from our on farm closed sand point well.  Closed sand point wells are the safest water sources available because they are not exposed to light or open air. We have exceptional water quality.   Our farm is not in an intensive livestock producing area which protects us from E.coli exposure. We test our water twice a year as required by Canada GAP and have clean results each time.  We have several cleaning procedures in place to maintain a food safe greenhouse and packing area, required by Canada GAP.  All of our staff are trained on the food safety procedures and requirements to meet and maintain these high standards.

 We have been Canada GAP certified since May 2013 and have received between 98.4% and 100% on the annual audits showing we maintain high standards in food safety.  – Pauline Slegers
The Slegers name means confidence in a outstanding local product: integrity and transparency from seed to table. Know your farmer, know your food, eat with confidence.
If you're longing for some romaine, ask for Slegers at your local retailer!