Each morning last week I gave up my comfy desk chair in the air conditioning to try my hand at farm work. I traded in my 'Human Resources' title for 'Field & Production Line Hand' – and boy, am I glad I did!
There's something so peaceful and calming in the fields during the early hours of the day. The mornings have been foggy with heavy dew, the air feeling like a warm hug. The plants are so welcoming, growing tall and strong in our healthy organic soil. These fields at 7am are my new happy place.
Day 1 – Hoeing
Hoeing is back-breaking work. Muscles I didn't even know I had are sore! We were sent to hoe one of our carrot fields – this year we are growing over 120 acres of them! The plants couldn't have been more than a few inches high which makes for tricky hoeing – luckily I had excellent coaching for our hoeing and transplanting Team Leads, Blake & Paul. I have a new found admiration and the utmost respect for our full time hoeing staff!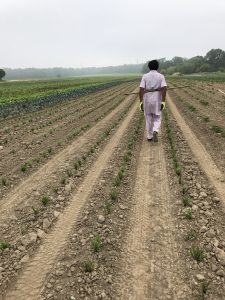 Day 2 – Bunching            
Wednesday morning I gave bunching my best shot! We were sent to harvest both curly and Italian parsley. Desmond, the bunching Team Lead, coached me on sizing and proper techniques to make the perfect parsley bunch. Everyone on the team was eager to help me and offered their tips and support. Desmond has a special knack for motivating and encouraging his team to work efficiently – challenging us to hit our per-person bunch targets! The competition was friendly and healthy and the team worked together to ensure each member made the target amount of bunches – it was a lovely morning.
Day 3 – Rain Day
As soon as we pulled into the field on Thursday morning the skies opened up and we were forced to return to the main farm. While the rain was welcomed for our crops, I was sad to miss out on my morning in the field! It's crazy to think that at this time last year we were in the middle of an extreme drought and the days were scorching, and this year it has been so wet and mild. The changing and unpredictable weather patterns make farming more and more difficult each year. I think every farm wishes they could dial in the weather – I know we do!
Day 4 – Kale & Green Onions
I had never worked on a production line before Friday – and if I was to sum up my experience in one word, that would be FAST! It took me almost the entire two hours we were bunching kale to catch up with the pace of the team – they are quick! We were bunching both green and red kale – the red kale is BEAUTIFUL – it's more of a purple colour and it is stunning. I struggled with making the right sized bunches, with many of mine being too big or too small. Luckily, the team I was working with was incredibly helpful and made sure I didn't fall behind!
I must mention that I was one of the only English speaking members of the team that day. English is not the first language for many of our employees here at Pfenning's, but it's never an issue. I think it's amazing how well we can communicate with one another without using words.
After coffee break together, we moved to the outdoor bunching hall to clean and bunch our green onions. If you've never had a Pfenning green onion before – you are missing out! Our fun non-verbal conversations continued out here while the time flew by! It was 3pm break before I knew it and my week in the fields were over.
This week I've been happy to get an extra hour's sleep on the morning, but I will miss my 'Field & Production Line Hand' title – until next time!