During a long Canadian winter, it can feel like spring will never get here.  But, every year it does.  And, every spring, it brings us joy to see the smiling faces of our Jamaican friends when they come to the farm.  Their arrival signifies the start of spring, and gets us looking forward to all of the good things that come with the season. Lots of outdoor activity, warmer weather, and local food season!  This farm would not be the same without them – their hard work, intelligence, sense of fun, and positive attitudes affect us all in such a positive way.  And every winter, while we are happy they are going home to their families and their life in Jamaica, we miss them just the same.
We are participants in the FARMS program, which enables migrant workers to work in Canada for a period of time. Pfenning's has been fortunate enough to have amazing Jamaican workers who have all become an integral part of the Pfenning's family.
Today on this beautiful September day we spoke to a few of these employees.  We asked them mostly the same questions we asked our summer students earlier this summer, and it was interesting to hear what they had to say.
Question 1:  What do you enjoy the most about Pfenning's?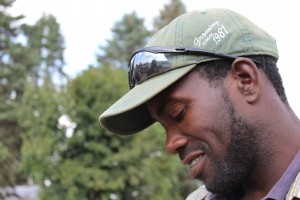 One worker particularly enjoys working with all of the different people within the company, which broadens his understanding of people and how they relate to each other.  Another worker, who has experience at other farms in Canada, expressed that he's glad he works on an organic farm, where there is nothing to make him sick.  "Everything" was the answer from two others, which includes an appreciation for the bosses and fellow workers from all backgrounds, and a love of the fields and farming.
Question 2: What is the most interesting thing you have learned while working at Pfennings?

All of the people we talked to today expressed that they had learned a lot during their time here.  Learning about people from varied backgrounds was mentioned, and learning about the tractors and other machinery in great detail were other responses.  The various certifications and training they have received here were also listed and included forklift, welding, tele handler, fall arrest, first aid and health and safety training.
Question 3:  What has been the most challenging to you while working at Pfenning's?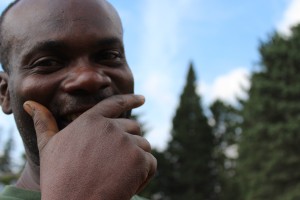 Adapting to living with a group of strangers can be a challenge, especially at the beginning of a season.  Teaching new employees what they need to do on the job and how to do it is a challenge that is enjoyed.  There is a wide diversity of people who work here, but everyone tries to work with a base of English, and learn pieces of everyone else's words.  This seems to be enough that the language barrier you might expect to be a challenge, isn't much of a challenge at all.
Question 4:  What makes Pfenning's stand apart?  What makes Pfenning's so special?
Overwhelmingly, the answers here spoke to the feeling like they are at home among family and friends while they are here.  Like any family, it has its ups and downs, but if there is a problem, it can be solved together.  They work hard but they have a lot of fun too.
Family – the most popular word used by our Jamaican friends to describe Pfenning's.  They all have their beloved families back home in Jamaica, but they consider Pfenning's their Canadian family. This family includes the owners, employees and friends. Pfenning's would not be the same without these wonderful young men and the pride they show in the work they do and the type of lives they live.