The addition of lemon juice to recipes builds a zesty flavour that can't be beat. There are a few varieties of lemons, but the most popular varieties are Eureka ('Four Seasons') which is available year-round, and Meyer which is in season from November to March and tastes like a combination of a lemon and a orange.
Regarding the health benefits, a 2016 study found citrus fruits and juices contain a wide range of nutrients, including carbohydrates, fibre, vitamin C, potassium, folate, calcium, thiamine, niacin, vitamin B6, vitamin A, phosphorus, magnesium, copper, riboflavin, pantothenic acid and a variety of phytochemicals. Additionally, according to World's Healthiest Foods, a quarter cup of lemon juice contains 31% of the recommended daily intake of vitamin C, 3% of folate, and 2% of potassium. Furthermore, just one raw lemon contains 139% of the recommended daily vitamin C intake at only 22 calories!
Despite all of the benefits of lemons, an abundance of them are discarded in the food industry due to rigorous produce standards and handling practices. This is especially wasteful, considering the energy, emissions, and resources that went into producing, harvesting, packaging, and transporting lemons to Canada, only for them to be rejected by consumers and grocery standards. In an effort to shift food standards in my own home, I make a point of getting lemons that are 'ugly', yet perfectly edible, to ensure the resources that went into producing the fruit do not go to waste alongside the lemon.
In this blog post, I'll go over some of my favourite uses for lemons that go beyond lemonade — when life gives you ugly lemons, find uses for them around the house and in recipes!
---
NOTE: to see a larger version of the graphics, click on the image
Uses Around the Home
Using lemons to clean the microwave is a great, non-toxic way to sanitize and keep your microwave smelling fresh. A 2019 study reaffirmed that the acidity and flavonoid compounds found in lemons have antibacterial and antimicrobial properties that have the potential to inhibit pathogenic bacteria.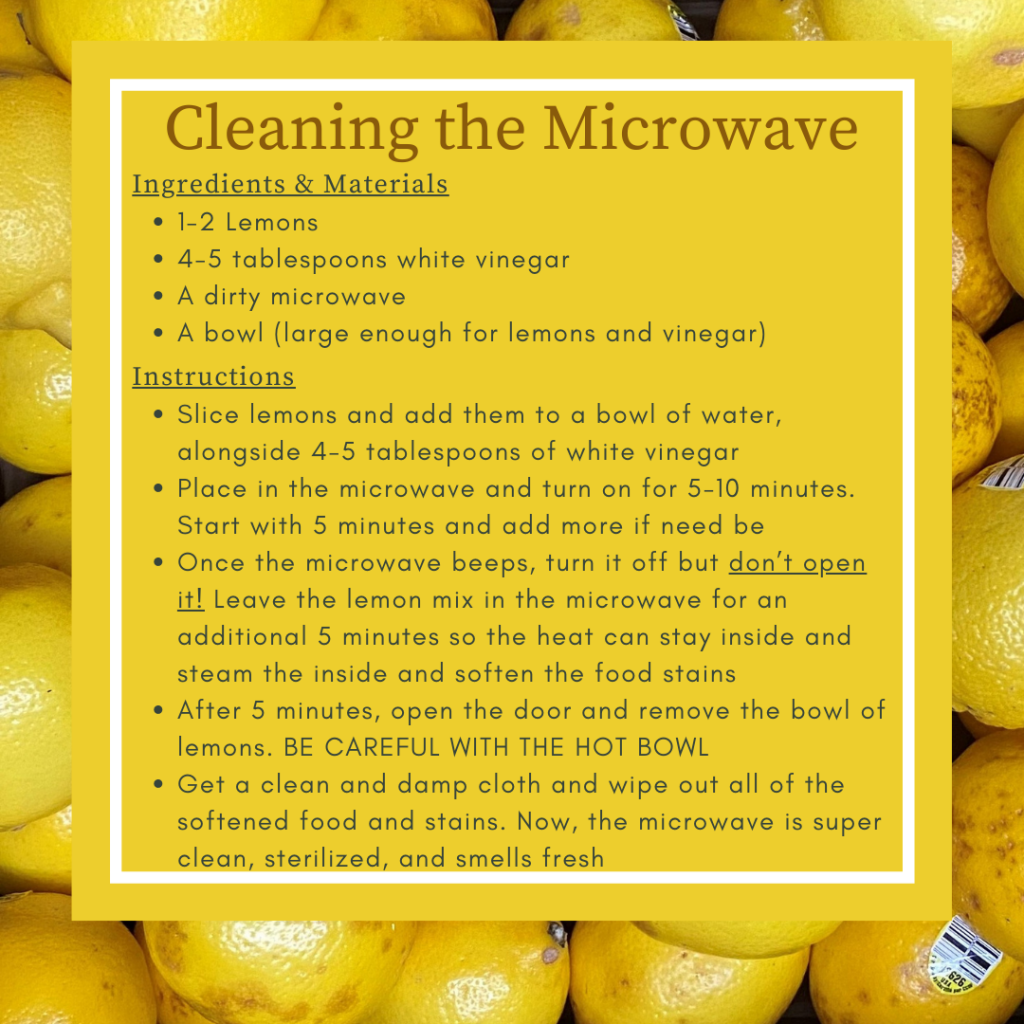 Trying to remove caked on grease and gunk from pans by hand is a tedious and time-consuming task that, in my household, often leads to dishes piling up in the sink to "let them soak". Instead of fighting with the grease and burnt-on food, a far easier method utilizes lemons and the natural acidity they possess.
Uses in Recipes
---
I hope these tips for using 'ugly' lemons were helpful! Tag us @pfenningsfarms on Instagram if you try any of them out.
---
Resources
https://seasonandserveblog.com/front/season/in-season-citrus-fruit/
https://homesteadandchill.com/homemade-lemon-vinegar-cleaning-spray/
https://natashaskitchen.com/lemon-chicken-recipe/
https://www.allrecipes.com/recipe/238488/refreshing-lemon-ginger-dressing/
https://www.foodnetwork.com/how-to/packages/food-network-essentials/how-to-make-buttermilk
https://iopscience.iop.org/article/10.1088/1755-1315/217/1/012023/pdf
https://www.researchgate.net/publication/308493812_Nutritional_value_and_pharmacological_importance_of_citrus_species_grown_in_Iraq
https://www.cooksillustrated.com/how_tos/5668-why-acid-turns-garlic-blue