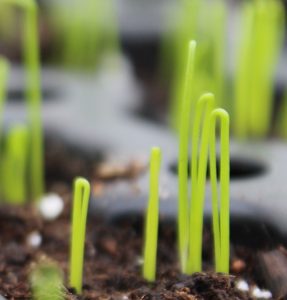 Don't you just love the promise of a seedling?  Potential and possibilities – and with a brand new partnership starting up for us, we are thinking a lot about these!
Pfenning's Organic Vegetables has a proud and successful history of partnering up with local growers in various capacities.  When you see the Pfenning's name brand on a product, not only could it come from our own 700+ acres of fields in the New Hamburg area, but it could also be grown by one of our partners, and packed under our name.  There is a long list of growers who provide us with organic veg to pack.  These partnerships allow them to get their goods to the people who need them in a much more efficient manner, and provides us with greater variety and volume of product to sell.
And now we are happy to announce a newfound partnership with a greenhouse grower from the Stoney Creek area!  They have approximately one acre of organic greenhouse in operation.  They grow items that we are accustomed to only seeing locally during the typical field growing season.  Here are a few pictures of what's growing:
All of these items, plus a few more will be provided for us in bulk, and we will bunch and pack them here at our facility.  We are so excited about this and here's why:
1.  This will reduce, or hopefully even eliminate the need to import leafy greens during the winter months.  This reduces our carbon footprint.
2.  We can keep more people employed into the winter months.
3.  Local greens year round!  That's just exciting in and of itself isn't it?
Greenhouse grown leafy greens are different from their field-grown counterparts.  You can expect milder flavours, and the texture isn't as robust – they are more tender.  We have paid a few visits now to the greenhouse, and we are very impressed with what we've seen and tasted!
Greenhouse growing in the winter months does present some challenges.  The biggest hope during a winter is lots of sunshine – nothing quite replaces it, although artificial lighting does the trick well enough.  Heating and artificial lighting costs will always be a factor in a Canadian winter.  Every attempt is made to increase efficiency – some energy-efficient techniques include in-floor radiant heating and using the artificial lighting during 0ff-peak hours.  Every little bit helps!
We are hopeful that we will learn and grow together and that this will be the first of many seasons to come.  As always, we are looking to grow forward, and that means together with our crew here, grower partners, and you – our valued customers.  Feedback is always welcome and appreciated!