"Community Flavoured Agriculture." A slogan that Pfenning's prides itself on. This could not be expressed more clearly than with the recent partnership between Pfenning's and the House of Friendship.
Pfenning's participated in this years Potato Blitz, a popular annual event put on by the House of Friendship. Pfenning's involvement was to sponsor the #SpuddyUnselfie social media campaign. The campaign challenged the public to post a creative "selfie" with spuds and send it to @HOFKW. Pfenning's agreed to sponsor this event by donating potatoes for every #SpuddyUnselfie that was taken.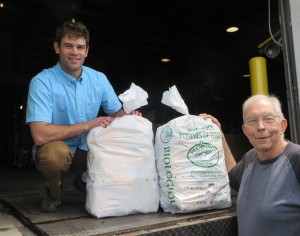 Just the other day, the House of Friendship made a visit to Pfenning's to pick up the donations. The grand total donated was 2,100 pounds of potatoes! Let's say that each family is given 5 pounds of potatoes, that means that 420 families can benefit from this wonderful campaign. To Pfenning's, this epitomizes the meaning of community flavoured agriculture.
It has been well documented that food security is an issue, not only in other countries around the world, but in our own community as well. It is Pfenning's hope that this donation can help feed the families most in need.
Pfenning's also wants to take this moment to thank the House of Friendship for everything that they do. You are a wonderful organization that exemplify the true meaning of community.