It is 10:00 am on an already sweltering hot morning. A short air conditioned drive out to one of Pfenning's fields is comfortable, the first step out of the vehicle is not. We are hit with a wave of heat, the sweat almost begins instantly. That sweat, that initial feeling of heat, is nothing compared to what the field workers are experiencing only 3 hours into their shift at Pfenning's. While we write this blog post from the comfort of an air conditioned office, there are roughly 75 employees working in the field. That field on a day like today has temperatures that are likely to reach 32 degrees. Factor in the humidity and you've got yourself an overwhelmingly hot day.
So just who are these employees that put up with days like these? We went to the fields to find out.
We came across a group of students. On a day like this they welcomed the 5 minute break to answer some questions about their experiences working at Pfenning's.
Question 1 – What do you enjoy the most about Pfenning's?
The responses to this question were very similar. Half of the group said "working outdoors" was the most enjoyable, while the other half said "getting to know a diversity of people from different cultures" was the most enjoyable.
Question 2 – What do you enjoy the most about working specifically in the fields?
The answers they provided us were not the same, but were rather quite different. They ranged from enjoying the community atmosphere in the fields and the help everyone provides to each other, to just simply working outdoors in the fresh air with friendly people. Having a variety of jobs to do was mentioned, rather than doing only one thing over and over.  One of the students explained that working in the fields taught them work ethic, something they hoped would transfer to their school year and help them be successful there.
Question 3 – What is the most interesting thing you have learned while working at Pfenning's?
Most of the students began working at Pfenning's with an idea of what work was like in the fields and how vegetables grew. However their past month and a half of work at Pfenning's has opened their eyes to so much more about the process. That "process" was the overwhelming answer to this question. These students have learned more about what vegetables go through as they grow, are harvested and readied for our customers. Building off of this, others explained how they have learned about the added work that goes into the growing of organic product in comparison to conventional – and that it's worth it.   We hope that they will remember this connection with the land and the food it provides – something that is missing for so many.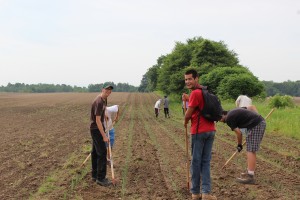 Question 4 – What has been the most challenging to you while working at Pfenning's?
On a hot day like today, it is not surprising that the answers to this question were all related in a similar way. The answers included dealing with long days in varying temperatures, coping with the heat and keeping up your stamina, along with getting up early in the morning. Another interesting answer unrelated to weather, was that communicating with some co-workers was challenging. Pfenning's has a diversity of employees from various cultures and countries. "Communicating with some of the employees can be a challenge because of the language barriers," explained one of the students. However, the students have really enjoyed getting to know these individuals that come from such diverse backgrounds.
Question 5 – What makes Pfenning's stand apart from other places of employment?
The replies to this question were extensive and quite pleasant to hear. "The fun and friendly atmosphere, family type community, encouragement from bosses and co-workers, constructive teaching, flexible hours, producing something of value, great bosses, community vibe and cultural diversity" were all responses to this question. The responses were heart felt and many of the students went on to explain that Pfenning's is just simply "different."
Perhaps "different" is the way to sum up Pfenning's? Perhaps that is why the students love working here so much. After all, "organics" is different, and challenges conventional. To the students, Pfenning's as a workplace challenges other conventional workplaces no matter what type of workplace that is.
Walking away from the fields we began to really feel the sweltering heat. Driving away, we now have a more in depth understanding of who actually is working for us. We realize though that the students are only one group of employees working in those fields.  Would the responses from other groups of employees be the same or similar to those of the students? Find out in our next installment of From Pfenning's Fields.